In Memory
David Jordan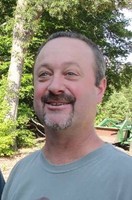 JORDAN, David Allyn, of Powhatan, born July 6, 1962, met his maker on June 26, 2017, doing what he loved most, which was riding his 1985 Harley. He was the proud father of two precious children, Tyler Allyn Jordan, 23 and Amy Nicole Jordan, 17. In addition to his children, he is survived by his former wife, Lisa Bennett and her family, who never stopped loving him. David also leaves behind a brother, Jamie Jordan and his former sister-in-law, Sheri Jordan; and many nieces and nephews. David was a proud American who served in the Marine Corps and the Seabees. His hobbies included fishing and enjoying the outdoors. David was a kind and generous man, who never met a stranger. He will missed by all who knew and loved him. He was employed by the VA hospital. A casual memorial service will be held on Saturday, July 8, at 3 p.m. in the afternoon on Eden Farm. 536 Eden Farm Rd., Bumpass, Va. 23024. Following the service, family and friends are invited to stay and enjoy a time of food and fellowship. In lieu of flowers, donations can be made to the Wounded Warrior Project.
June 26, 2017
POWHATAN, VA (WWBT) -
A motorcyclist died in a crash in Powhatan early Monday morning.
Officers said David A. Jordan, operating a 1985 Harley Davidson motorcycle, was driving east on Judes Ferry Road, when a deer ran out and struck the motorcycle, causing Jordan to be thrown from the motorcycle.
Jordan, 54, of Powhatan, was transported to St. Francis Watkins Center where he died from his injuries.